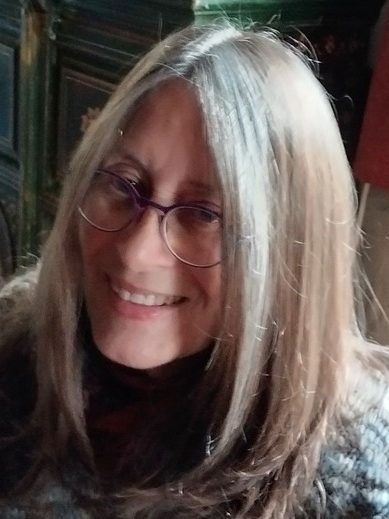 Jin Shin Jyutsu®, Reiki and Seichem
Chrissie was drawn to vibrational healing during a health crisis in her own life following the birth of her daughter. She subsequently began training in the healing arts herself and was the Reflexologist at Vinings during its early years.
She also trained in Reiki and Seichem (attending a monthly Reiki/Seichem development group for seventeen years), together with other disciplines, over a number of years.
When she was introduced to Jin Shin Jyutsu, Chrissie immediately recognised the profound and authentic nature of this gentle but dynamic art and began training soon after. She has had, and continues to have, great benefit from it, and has observed this in others too. She is now pleased to be able to offer Jin Shin Jyutsu at Vinings Natural Health Centre.
Chrissie has a great love of people and, along with her innate intuition and compassionate nature, brings with her the deep understandings she has derived from studying with her long term teacher, whose lineage includes Sir George Trevelyan, 4th Baronet, a founding father of the New Age movement and the Philosopher, Lord Bertrand Russell. Lord
Russell won the Nobel Prize for his writings in which he championed humanitarian ideals and freedom of thought.
Chrissie has written an autobiographical book (not yet published) charting her journey from illness to health and occasionally writes poetry, some of which has been published.
Fees:
Single Session £65
Series of Three Sessions £180
Series of Six Sessions £330
SPECIAL INTRODUCTORY OFFER FOR NEW CLIENTS: 2 Sessions for £90
A Jin Shin Jyutsu session takes between 50 and 60 minutes. Please allow up to 75 minutes for your appointment (a little longer for the first one).
Reiki and Seichem
Reiki and Seichem are both non-invasive therapies, which have the aim of treating the person holistically and restoring balance. Reiki means Universal Life Force Energy and works with the Earth element. Seichem brings all four elements (Earth, Fire, Water and Air) together. Reiki has been referred to as The Great White Light, whereas Seichem, which can be used for more specific purposes, has been referred to as The Rainbow Fire Energy.
Reiki and Seichem are deeply relaxing and have a profoundly calming effect, which may be felt for several days after a session. The Receiver will draw in however much energy is needed at any one time. During a session, you will lie comfortably, fully clothed, on a treatment couch (or sitting in achair if preferred), while the practitioner places their hands on or above your body. No pressure or manipulation is involved.
As with Jin Shin Jyutsu, Reiki and Seichem do not replace orthodox medicine, but can
support you while you are undergoing treatment.
Fees: Reiki £55 Seichem £55
SPECIAL INTRODUCTORY OFFER FOR NEW CLIENTS: 2 Sessions for £90
Please allow a minimum of one hour for your appointment (a little longer for the first one)
Contact details:
Tel: 01444 471581
Mobile: 07395 084247 (text only)
Email: chrissiedimitri@gmail.com