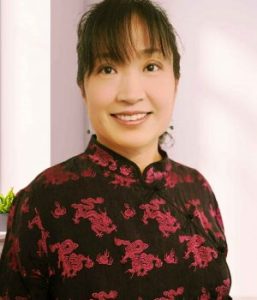 Xiao Chun Gao (Sunny) Lic AC, MBAcC, BSc, came from a Nursing and Massage background before studying at The International College of Oriental Medicine. She graduated with a BSc. Honours degree in Acupuncture, awarded by Greenwich University. She is also a certified member of the British Acupuncture Council (BAcC).
Sunny incorporates Classical Chinese Medicine (Stems & Branches), Five elements and Applied Channel Theory into her diagnostic treatment plans. Gua Sha, Cupping and Moxibustion can also be incorporated into treatments dependent on the client's needs.
Sunny has been a registered nurse in China since 1989. She continued studying professional nursing and science courses in Shan Dong Medical University between 1995 and 1997. Acupuncture was one of the modules, and Sunny graduated with a first-class degree in nursing.
Sunny had over 15 years' experience as a Registered General Nurse in China. During this period, she worked in the Thoracic Surgery, Digestive Surgery, and Orthopedic Units. While working in Digestive Surgery unit, she practiced Electro-Acupuncture, helping post-operation patients to recover from surgery (stimulating the intestines to start movement).
Sunny came to the UK in 2008. She studied English Language, while she was working in orthopedic and spinal wards as a health care assistant in the NHS. She returned to China and completed a massage course at Bin Zhou Medical University China in 2015. She holds a Massage Certificate, encompassing Tui Na, Remedial Massage & Sports Massage, Neuromuscular Techniques and Foot Massage.
Sunny continues with the NHS. She has good experience in both Western and Chinese medicine and delivers a high quality of Acupuncture treatment to patients in need.
Cupping 拔罐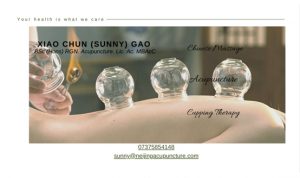 Like Tui Na massage, Cupping is used to generally relieve muscular knots, aches and pains by stimulating the Qi and Blood to the area. It can also be used for internal issues when combined with acupuncture. The cups are made of glass in different sizes.
A vacuum condition is created by lighting a fire inside the cup before putting it on certain areas of the body. Shoulders and back are the most common areas to receive cupping treatments. Marks may appear after cupping treatment. The colour may range from mild red to red or purple. They are indicators of how well the Blood and Qi are circulating in the area. The marks should disappear within 1 to 2 weeks depending on the colour.
Initial Appointment: £60( 60 – 90minutes)

Further appointment:£50 (45 minutes)

Hot Cupping: £40 (45 minutes)