Reiki Treatment and Classes at Vinings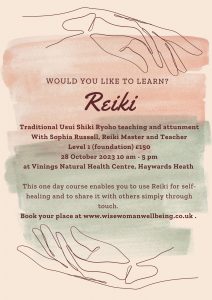 Written by Sophia Russell
What is Reiki?
Reiki (pronounced Ray-Key) is a Japanese word. Rei means "universal wisdom" and Ki means "life energy". Reiki is therefore vital life energy guided by universal wisdom. It is a powerful tool for physical, mental, emotional and spiritual healing and greatly enhances personal growth.
Ki energy is the vital flowing force contained in all life. Reiki can be used to treat anything on any level and is an effective method of maintaining a balanced well-being. Reiki is universal and is not connected to any religion or belief system, but embraces and enhances all such beliefs, bringing greater understanding and clearer direction. All that is needed to receive the Reiki energy is the desire to do so.
What happens during a Reiki treatment?
When we meet, I take a brief medical history and invite you to tell me what needs healing in you. I will explain what the treatment involves and how you may feel during and afterwards and you can ask me any questions you may have. You will be invited to lie down on the couch or sit if this is easier for you. It is not necessary to remove any clothes except for things that could restrict your comfort like shoes or your glasses. The treatment is given by placing my hands gently and non-intrusively on the front and back of your body in a pre-determined sequence of hand positions, spending a few minutes in each place. Many people feel a sense of relaxation during a session and sometimes will even fall asleep! Afterwards, there is time to share any observations. Reiki practitioners do not make a medical diagnosis so you should always consult your GP if you are worried about your health.
How can it help me?
A Reiki treatment:
Is deeply relaxing
Relieves stress
Increases personal energy, vitality and confidence
Releases emotional and energetic blockages
Improves sleep
Brings balance and harmony in mind and body
Relieves pain
Promotes a peaceful sense of wellbeing on all levels
Is comforting when life is tough
Is supportive during pregnancy
Is calming for children
Is helpful at the end of life
Would you like to learn Reiki?
Reiki can be learned by anyone; no specialist medical knowledge or specialist equipment is required. Reiki is not "taught" in the way that most practices are. Students undergo an ancient and precise attunement process performed by a Reiki Master. An attunement is an investment in your wellbeing and self-development.
Level 1 (foundation) £150
Next teaching date: Saturday 28th October, Haywards Heath
This one-day course enables you to use Reiki for self-healing and to share it with others simply through touch. You will learn the history of Reiki, the five principles, what you can use Reiki for, how to give a treatment andhow to take care of yourself while working. There will be some homework to do afterwards as you become acclimatised to the energy of Reiki including self-healing work, practice giving and receiving treatments and living by the five Reiki principles. After this course you become a student of Reiki; you must not charge for your services until you have
completed level 2.
Reiki Level 2 (practitioner) £225
Next teaching date: Saturday 4 November, Haywards Heath
For those who have already attained Usui Shiki Ryoho Level 1 a minimum of three months previously. After this one-day course, you will be able to practice Reiki as a therapy and charge for your professional services. You will learn three Reiki symbols and how and when to use them to direct the flow of healing energy, how to send distance healing and how be in professional practise. Your homework includes practice giving and receiving treatments and sending distance healing.
With Sophia Russell, Reiki Master and Teacher – Traditional Usui Shiki Ryoho.
For more information and to enrol on a course visit:
Tags: Reiki