Hypnotherapy – Access All Areas – via the Unconscious Mind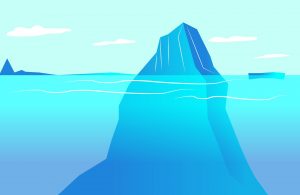 By Judy Sharp Dip Hyp; Dip PLT
GHR and CNHC registered
Hypnotherapy is simply the therapeutic use of hypnosis as a way of accessing the unconscious to resolve a very wide range of issues ranging from irrational fears and phobias to anxiety and depression; from emotional trauma to weight management; from challenges with relationships or money to giving up smoking. Or it can be used to harness the potential of the unconscious to provide motivation and positive suggestions to overcome stressful situations: exam nerves, driving test blues, yips on the golf course, giving presentations to large audiences ….
Have you ever been mesmerized by flames in a log fire? Or been lost in a beautiful piece of music? Have you been in a car on a rainy journey as the wipers slip-slapped against the windscreen? Then you have slid into "an altered state of consciousness" – precisely the "trance state" that is induced in a session of hypnotherapy.
The mind is like an iceberg
The mind is like an iceberg, with the 10% that shows above the surface of the ocean being the conscious mind, controlling our day-to-day activities and rational, cognitive functions. The 90% of the iceberg sitting quietly below the ocean equates to the unconscious mind. This is the control centre, the computer hard drive, and by by-passing the conscious mind, the hypnotherapist can access the unconscious mind. Not only does it monitor all the physical and biochemical processes that keep us alive, such as breathing and temperature control, it also influences our overall health and wellbeing. It is in the unconscious mind that all memories and traumas, feelings and emotions are stored, and it is here that the therapist works to find the real underlying emotional root cause of an issue.
Real examples
Examples are probably the easiest way to show the spectrum of challenges that I have helped clients with over the years:
T
he real root
cause of an issue in this life may
be found in a previous life.
A lady who came to me with a severe fear of flying went back to a life as a man in India in the 17th century. His life ended tragically, trapped in rubble in an earthquake in Calcutta. She emailed me a few weeks later to say she had just returned from Dubai, having flown there and back without a problem.
A young man came to see me, delighted with a new job but terrified of having to wear a tie and give presentations to the Board. Not only did we find the root cause of his tie phobia (he had been hanged in a previous life) but we boosted his confidence so that he sailed through those all-important presentations and was promoted!
I work with many people who are holding on to excess weight. Hypnotherapy may not be the obvious solution, but it is highly effective. Women in particular can create a "spare tyre" as protection and / or comfort from childhood abuse; bullying; painful relationship break-up; even forced pregnancy terminations or loss of a baby. Using hypnotherapy to access the unconscious and following the thread allows the issue to be resolved at source. Sometimes it is even a case of the client having starved to death in a previous life, and making a promise never to be without food again. Sounds strange, but the unconscious holds all traumas, all memories – and all promises.
Hypnosis has an excellent track record with helping people to give up smoking or similar addictive behaviours. Access to the unconscious allows old habits and beliefs to be "edited out" and new "suggestions" to be put in place. The old habits just vanish off the radar.
Will it work for me?
It works for the vast majority of people. A very small minority of people can't reach that deep state of relaxation for one reason or another – in which case other approaches are more appropriate.
In the 25 years I have been practising, I have worked with people from 18 to 80, and have dealt with an enormous range of issues. I am always happy to have a chat and answer any questions, without any charge or commitment.
Special Offer
Usually three or four sessions are all that are required, although some clients return regularly for "top-ups" of deep relaxation! Each session lasts for two very full hours, and I am currently running a special offer of three sessions for £330 instead of the usual £450. If you would like to take advantage of this, please call me on 01444 459 433 or 07597 020 512, or visit my website: www.effective-hypnotherapy.co.uk for more information about me and the way I work.
Tags: body, hypnosis, hypnotherapy, mind, natural health, past life, past life regression, regression, therapies, treatments, unconscious mind, Vinings, Vinings Natural Health Centre, wellbeing, West Sussex